>
Sell RuneScape Gold for OSRS 07
As we all know, Old School Runescape is a massive multiplayer online role-playing game. As a result, it averages around 100,000 – 150,000 players online at a given moment. Most people play OSRS at least 2 – 5 hours per day on average, and these players explore all possible options to acquire the gold that they need and then end up selling them to either other players, friends or websites that are trusted.
You may ask yourself, why would someone sell off his OSRS gold that he/she has worked so hard to make? Well, there are many reasons:
OSRS gold is an excellent way to make real-life cash, as it sells for a decent amount.

Some players end up quitting after a long successful journey. So before leaving, they try to gain something off work and time they've put up.

The others are general traders, who join the game for the very reason – to make money.
It is advised that you never sell your OSRS gold to someone you've just met in-game and is willing to buy because there are many scammers out there.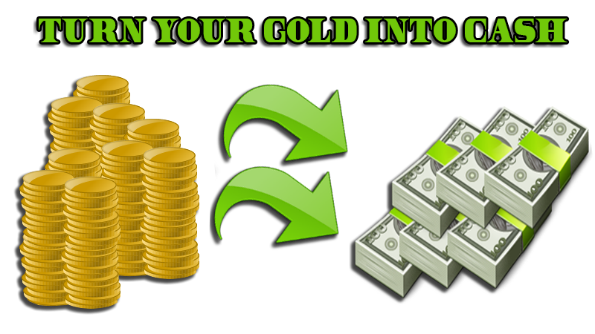 A personal recommendation would be to sell your gold on sites like https://sellrs07gold.com/. It is both trusted and safe, with a straightforward procedure of selling OSRS gold. You can open the following link on your browser and follow the instructions below:
Choose the gold type (OSRS gold) and type in the amount you wish to sell.

Choose your payment option and click on 'Sell Gold'. A live chat window will open to your right, with a customer support representative waiting to help you.

Provide your character name, and the representative will give you a location and a specific world to meet up.

Login to the game and trade the gold.

(Note: Before you accept the trade in-game, it is advised that you first confirm with the respected support)

Once you've traded the gold, you'll receive the money to your chosen payment option.
Wasn't that quick and simple? This is all it takes, 5 simple steps and not a second to waste. They provide the best deliveries in the shortest time, and all you must do is be aware of imposters. You can also check the websites' review on 'Trustpilot' and 'Sythe' by scrolling to the page's bottom.
This website has several options for Runescape players looking to Buy, Sell or Exchange their gold, with more payment methods on the way.
OSRS/RS3 Gold (Buy)
OSRS/RS3 Gold (Sell)
Gold Swap – OSRS to RS3
Gold Swap – RS3 to OSRS
There are a lot of fake websites made to Buy or Sell OSRS gold. It's recommended that you always check the website reviews and vouches as they're essential.
While you're trading your gold in-game through a trusted website's representative, you should always confirm the character's name. This is because there are many imposters with the same combat level and costume, but with a slight difference in their username.
These impersonators stand at the very same location where players head over to trade their gold. They'll then try to match up with the character of the actual gold receiver. A word of advice is not talking to anyone in-game when you're about to trade your gold. Conversation with the buyer is better off if it takes place on the live chat of the website.
Most of the OSRS gold sellers sell gold to 3rd parties hired by the stores. These 3rd party buyers don't really work with any company and are just a normal group of people working for a website that buys OSRS gold with cash. Nothing is monitored to how they make the gold they have on their accounts. So, it is very necessary to let all OSRS gold sellers know how to make a safe trade.
Players are mostly asked to meet up at main areas like the Lumbridge Castle, Grand Exchange, Varrock Bank etc., where you would be able to see many low-level accounts just standing there. These accounts then try to figure out if a player who has just arrived there is trying to sell his gold or not. They do this by sending him/her a private message talking about the delivery, and that's when players mostly fall for the trick thinking that the account belongs to the website's representative. These people are actually a team of scammers arranged in F2P worlds, hunting for rookies who trade their gold for the first time.

The most important part, while trading is the character's name. For example, when a representative asks you to trade the account named 'lofgod', scammers try to impersonate the very same character by creating a fresh account named logod/Iofg0d, where the capital letter 'I' becomes smaller 'l' or the letter 'o' becomes zero '0'. This is what most gold sellers don't notice and end up trading the wrong player.

It is advised that you always take a screenshot while delivering the gold because you never know when things might take a turn after the trade. There are times where you may have to send the screenshot to the website's representative or the player that you've sold your gold to for final confirmation before you receive your payment.
If you're a trusted gold seller, who other in-game players buy from, make sure that you always deliver the gold in time, because if you can't do it, the player may cancel the order and ask for a refund.
Considering that, there is also another thing that one should remember while selling OSRS gold. As you know, Real World Trading is illegal on Runescape platform. So, a player needs to be careful while trading. Here are a few more tips to help you out when selling Old School Runescape gold: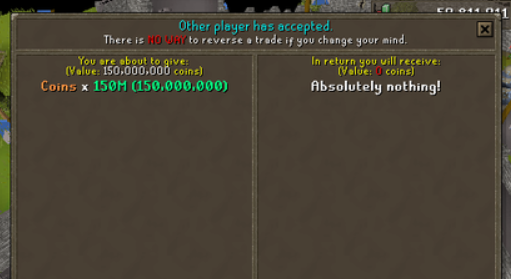 Use a VPN (Virtual Private Network)
The first thing to do if you're a gold seller is to mask your IP. In other words, change your IP address every time you go through a trade because Jagex can easily track your IP and figure out your main account.
Sell on a member's world
Knowing that you have a good stack of gold on your account and you're looking to make some extra bucks in real life by selling some off some, be very cautious about not getting banned. Jagex is not stupid and will follow your account, seeing that you're selling a huge gold stack on a F2P world. So, please do a large amount of trades in a member's world, as saving OSRS bond money, and trading in a free world may come at a higher cost if you get caught.
Try to sell your gold at one place
Some players with a huge amount of gold stack look for the best prices to sell, which is understandable. But this is where you start being noticed – For example, there are 3 buyers and each of them are offering different rates. Let's say buyer E is offering 0.52 per million, while buyer F is offering 0.53/M and buyer G is offering 0.54/M. Now, the problem that arises is that buyer G (Highest rate) can only buy 700m, while buyer F can buy 500m and buyer E can take everything for a reasonable price. Spreading your trades across these 3 buyers just to make a few extra bucks can be very risky. It's best that you stick with a buyer who is ready to buy all your gold at once. This is because switching around and will just make you get noticed, which will eventually make you get caught and banned.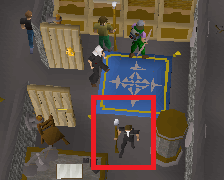 Try staking instead of trading
Large amounts of trades from a single account can be easily traced by Jagex, when they start keeping an eye on you. Players stake billions daily at the Duel Arena, so staking mere millions instead of trading the gold directly to the buyer will just make it look like you lost it in a duel instead. However, Duel Arena does take 1% tax from the pot, but it's a small price to pay to keep yourself safe.
Don't trade through new accounts
Always avoid trading gold through new accounts. If you want to trade through an alternate account, just to keep your main account hidden – you should create the account a long time, train your skills, get membership, have a few friends on your list and complete some quests / achievements before using it to trade. This is to make your alternate account seem like it's your main, which will help you stay under the radar.
Privacy
You should know, when it comes to selling OSRS gold, the most important thing is your privacy. By not taking the necessary precautions, your privacy can easily be leaked or used to access your accounts.
Your accounts are the most valuable thing in this case and even more valuable than a few billions of in-game gold. It is recommended that you always ask for payment methods like Cryptocurrency (Bitcoin, Ethereum, Tron etc) rather than sharing your real-life information during the process. It depends if the website is offering such a payment method when you're selling your gold, if it's not then I'd suggest you look elsewhere or find a trusted site that has a good amount of vouches.
The most competitive thing about these websites is the price of the gold, which may vary in almost every company that trades. For example, you may find that site A has a buying price of 0.47$/Million, while site B has a price of 0.50$/Million, so it's better than you check a few 'trusted' sites for their buying price before you end up selling your gold.
Another thing you should keep in mind is the company that you're dealing with, as there are several imposter websites dealing with OSRS gold. Handing your hard-earned gold carelessly to a person behind a keyboard is not likely the best way. It is important that you trade your gold through websites like https://sellrs07gold.com/.
Our customer support team are well experienced in trading and play a big role in staying safe. We're aware of all the protocols that will keep our customers safe. You can only be a reputable company if your services are good, and the services provided by its customer support system are unparalleled. So, what are you waiting for? Go ahead and sell your Old School Runescape gold today!